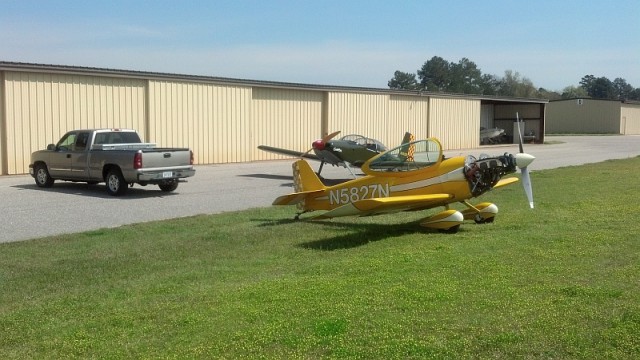 RV builder/owner/pilot and long-time EAA star Dan Horton in Watumpka, Alabama, has a top-knotch team giving the RV-1 a good look this weekend to ensure that it is ready to continue its tour.
The seat belt needed an extension to accommodate the various pilots, some junk needed to be cleared from the bottom of the fuel tank, the health of the fuel flow ensured, and the wiring harness secured to prevent some noted rubbing.
The gascolator and carb inlet strainer were pulled, checked, and cleaned, followed by a flow test. Flow measured after the inlet strainer was 15 gph pump off and 18.75 gph boost pump operating.
Found a few rubbed spots on the ignition harness, some trash in the tank (which the gascolator easily catches) and nothing else. Two long runups were done with the airplane tied, tail in a ditch, nose up. It ran great, boost pump on and off.
UPDATE: The cause of the stumble was classic.
The RV-1 has a gravity fuel system, with a Facet boost pump. Walt said, "Hey, maybe you should check the boost pump inlet". We agreed it was doubtful given the flow check results, but We'd do it anyway. It bothered us both just a little not to have a smoking gun. (Getting to the boost pump means crazy contortions or tunneling in through the side.)
After pulling the fuel line between the tank valve and the fuel pump…..and what was found ? A strip of ancient blue RTV silicone rubber, just the perfect size to act as a flap and block the pump inlet in a random manner – about 7/16″ long by about 1/4″ wide and 1/32″-1/16″ thick. Just sitting there wait to raise its ugly head.
There was much rejoicing in Whoville. Good call Walt. We believe it to be the source of the problem. Flight test tomorrow will tell the tale.
While DanH had the side open he fixed the pedal geometry.
Pilots are always making picky demands like "I want to push the rudder pedal without locking the brake"…..sheesh. You would think it would be enough that we try to make the engines run all the time
We hope to put the RV-1 back on flight status Monday morning.
The plane will be flown in the local area for awhile before continuing onto Florida later this week (assuming no further issues are identified).
Run-up while tied down to a truck and on a slope to simulate climb-out conditions. The engine ran great!
Junk passed out of the gascolator.
Checking fuel flow, which was satisfactory.