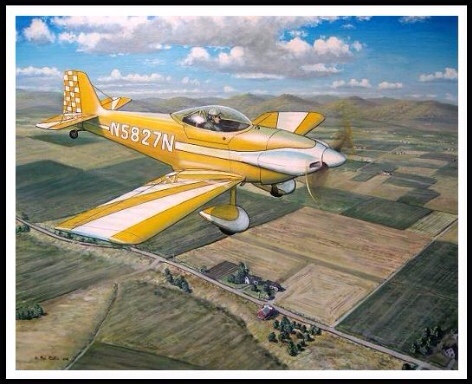 The RV-1 had a very successful, kick-off week in Florida. Paul Dye took the controls and Louise Hose in escort, flew from Wetumka, AL, to Pilot Country northwest of Tampa, FL, for an overnight visit. An impromptu BBQ/party broke out while the residents took over repairs on the escort plane (dead alternator). The RV-1 grabbed a lot of attention. In the morning, the RV-1 met up with Team RV (11 RVs that were flying the airshow at SnF) and the group made a formation arrival with the RV-1 in loose trail.
The RV-1 had a place of honor very close to the Van's tent at Sun-n-Fun. We had a steady stream of visitors and many folks used our tent as the RV gathering place. The factory folks good-heartedly bemoaned that more people seemed to be at the RV-1 display than the factory tent. Even Van, himself, spent more time with us!
One surprise for attendees was a beautiful card showing a painting by Canadian RV-8 builder, Paul Tuttle. It is an artist rendition showing Van flying the RV-1 downwind to the family 600′ airstrip. The strip is a critical part of the Van's Total Performance story as it motivated Van to put the metal, cantilevered wings with flaps on the Stitts Playboy (and other alterations) to improve short landings and slow flight. Yet another important part of the RV story! The plan is to have posters available for donations later in the year.
Friday evening, the RV-1 flew over to the famous Spruce Creek Airpark near Daytona, FL. What an amazing community! At least 48 RVs and 650 airplanes! Van joined the fun on Saturday morning. It was a full day that included a flight line inspection, fly-bys, hangar tour, Van flying the RV-1 for the first time in over 43 years, and an EAA Chapter 288 BBQ with over 250 people attending.
The RV-1 tour has received quite a lot of media attention. There were articles in the March issue of Kitplanes and last week on Wired.com. AvWeb covered the project and tour last week. Kitplanes shot photos for the July cover on Friday and Photos were taken of Van flying the RV-1 for Sport Aviation. The Canadian OPA newsletter is also putting together article.
The RV-1 left Spruce Creek Sunday morning and flew up to Savannah to stage for its next event.
The tribute tour is off to a great start and I continue to marvel at how well things are moving along due to the support of a large and growing cadre of volunteers. The plane is flying great and our volunteers have exceeded our hopes for support. Thank you for agreeing to help continue this great tour! – Louise Hose